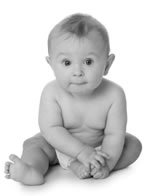 A few months ago, I sent an email to a client about taking out life insurance policies on his 2 kids. A couple weeks later we ran into each other and I asked if he had reviewed the quotes. He said, "I'm not concerned about it because the kids have no debt. In the worst case scenario, I will only be out the cost of a funeral." I explained how I understood where he was coming from, but he missed the most important part.
Life insurance is a reliable way to cover your debt and family's on-going bills, funerals, college funds and more. So for him to think his children didn't need life insurance seemed logical. However, his kids will grow up and have families of their own. "What happens if one of them gets Juvenile Diabetes or another uninsurable disease? Even if your kid gets Diabetes, they can still go on and live a normal life. That means they will likely buy a house and start a family but will have difficulty getting affordable life insurance." I explained. "Oh, I never thought about that.", he said.
---
Example: $25,000 Whole Life + a Guaranteed Purchase Option of an extra $50,000 at ages 25, 28, 31 & 34. For a newborn, the cost is less than $8 per month.
---
As the example shows, life insurance for your child or grandchild is very affordable. Click below to contact us for a quote.
Contact Us!
For further questions and assistance, please contact us. You can also learn more about our Life insurance or get a free Life insurance quote online today!